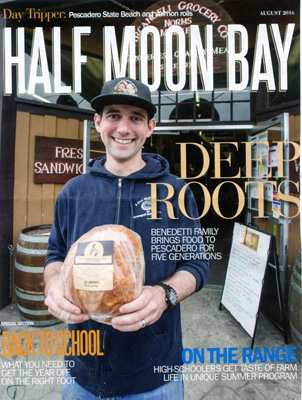 While millennials are traveling far and wide to find their purpose in life, Chris Benedetti seems to have learned early on that he didn't need to look any further than his own backyard to find happiness. At 27, he proudly represents the fifth generation of Arcangeli Grocery Co. in Pescadero. It's a business that traces all the way back to his great-great-grandfather.
"I tell people I'm going to be here until I'm dead and buried like everyone else. I love it here," says Benedetti. He manages the family store while his father, Mike, is the current owner.
Five generations of family ownership is rare. According to one study by the Family Business Institute only 3 percent of businesses operate at the fourth generation and beyond. Benedetti is more than happy to share the family's secret recipe for survival.
"I think its because we're honest people. We've made it this long with hard work, determination and just being good people," he says.
And the owners aren't the only ones with a history at Arcangeli's customers also seem to share a long lineage of family memories.
"I talk to people who have been coming for generations. They say they remember when they were a kid and came with their dad and bought bread and went to the beach. Now they're bringing their kids and buying bread and going to the beach. It's like a good summer camp memory. I think that's the feeling we give people," says Benedetti.
"I really enjoy sharing our story. I think that's a lot of the charm and the beauty about our place is that you can still come here and we're still working. It's still family-run. It's still family-operated," says Benedetti.
Their story traces back to 1929, when the business was founded by Benedetti's great-great-grandfather, Sante Arcangeli, an Italian immigrant who came through Ellis Island and worked his way across America on the railroads before settling in San Francisco with his wife and three children. Not long after settling, his wife suddenly died, leaving him to raise their three kids by himself. He ended up losing the children to the state.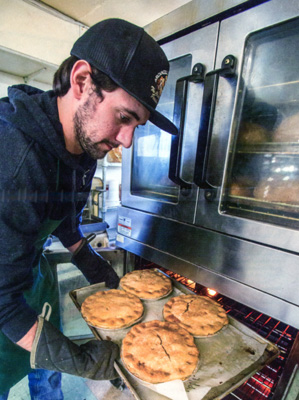 "He wanted nothing more than to get his kids back so he was working his tail off. He was delivering bread out of San Francisco," Benedetti enthusiastically recounts. And despite the fact that he's likely told this story a thousand times, it's apparent he never tires of sharing it.

It was the Great Depression and there was no credit, which meant Arcangeli had to pay for the bread up front and was reimbursed upon deliveries. "The story goes, he had a big delivery for bread here in Pescadero and when he got here with all this bread, they stiffed him on it. So he got stuck with all this bread and lost a bunch of money," says Benedetti.
Instead of giving up, Arcangeli saw a light at the end of the tunnel. He opened up the first Arcangeli Grocery store right next to the store that had stiffed him.
Two years later, in 1931, he began building the store at the current site.
"So right after he finishes the building — the building is still in debt — he gets all the kids back and then he gets pneumonia and passes away at 55," says Benedetti.
Sante Arcangeli's daughter, Louise, who was only a teenager at the time, then took over the store. She is Benedetti's great-grandmother.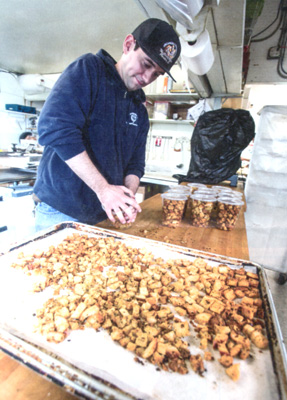 Chris has become as much a part of the narrative as the generations before him.
"There's pictures of men in the mixing bowl as a baby. Literally, it's been my whole life," says Benedetti.
He joined the family business full time seven years ago after attending California State University, Chico.
"I had my time in life where I wanted to get away and see other things and work a couple different jobs and see what life was all about. I decided what I had at home really isn't that bad at all. In fact, it's really cool," he says.
He says he's made his mark as the tech wizard, fixing the computers and working on their website and social media. And perhaps one of his greatest marks will be holding onto the family history and retelling their stories. Old photos of each generation line the store walls. The original cash register sits in front on display. A picture of Benedetti's great-great-grandfather Sante Arcangeli, the man who started it all, is printed on their products, a simple reminder of their roots.
Recently, Benedetti got married and traveled to Italy for part of his honeymoon. He visited the village near Lucca from where his family emigrated. He got to see firsthand the life they had left behind in search of something greater. And despite the 6,000-mile journey, he learned that all roads really do lead home.

"It really meant a lot to me, and I learned that part of Italy looks a lot like the Bay Area. And I could see why my family settled here in Pescadero. It makes a lot of sense. It probably reminded them of home.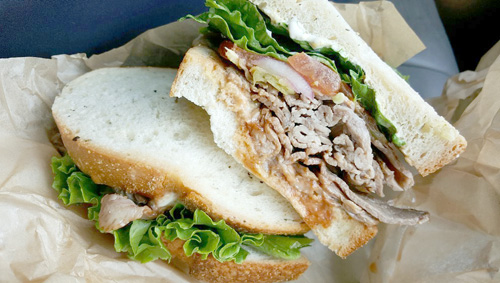 This is a TRUE story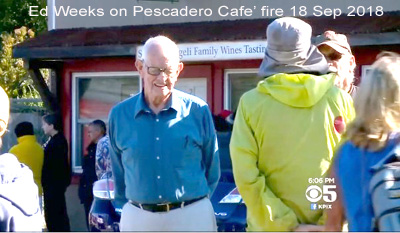 "So, how and why did we at The Landmark start offering this wonderful bread here in Poulsbo, Washington? It started 2016 when I was researching my family heritage and a "lost" cousin, Ed Weeks whom was born in 1926, in Pescadero, called me here in the store and asked me if I knew Sarah Swanton? Well, I replied that she was my step Great Grandfather's Grandmother! His name was Clarence Herbert Swanton (aka, Bert) and was born in The Swanton House, Pescadero in 1877. Ed was a descendent from Sarah's sister Annie Washburn. Well, we have been conversing ever since and all the family ties and connections have been revealed! Ed Weeks came to me with a world of ancestry information! Final piece in the puzzle!

Then one day, a customer from California came into the store and mentioned "Pescadero" Sourdough Bread that was wonderful and delicious! So I called Ed that night and asked him about the bread and if it was good? He replied, "oh, (had to think) don't think I ever tried it"! Then I could hear his Daughter in the background say, "I think we made a sandwich once with it"? Ed replied, "Oh (had to think) "don't remember"?

About a week later, two loaves appeared on my door step and I could smell the garlic radiating from the package! Opened it up and dug in! It was a "wow" moment! Then I hear Shirley (my wife) in the background say, "you're supposed to cook it another 15 minutes, it's "Half Baked"!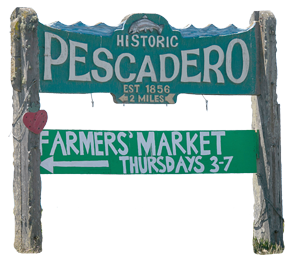 Needless to say, it was good anyway! So, I had to reciprocate with Ed? So I called Norm's Bakery and introduced myself and told them of my connections and ancestry with Pescadero. Told them Ed's story and they couldn't believe it! Ed was always hanging around working and stacking shelves, selling the bread, etc. Nobody "ever" thought for a moment, this couldn't be true? But, it was! So, I asked the co-owner (Chris) to pull one of their best, slice it and put a "bow on it" and when Ed comes in on that Wednesday, tell him it's from your cousin, put a "bow on it" and when Ed comes in on that Wednesday, tell him it's from your cousin!

Needless to say, from that point on and when I called Ed, the first thing he said to me was, "we're eating the bread now!" Of course, I said you have a lot of catching up too do!

True story! Sadly to say Cousin Ed, passed October 2018. . . He will be missed and our stories and research concluded.